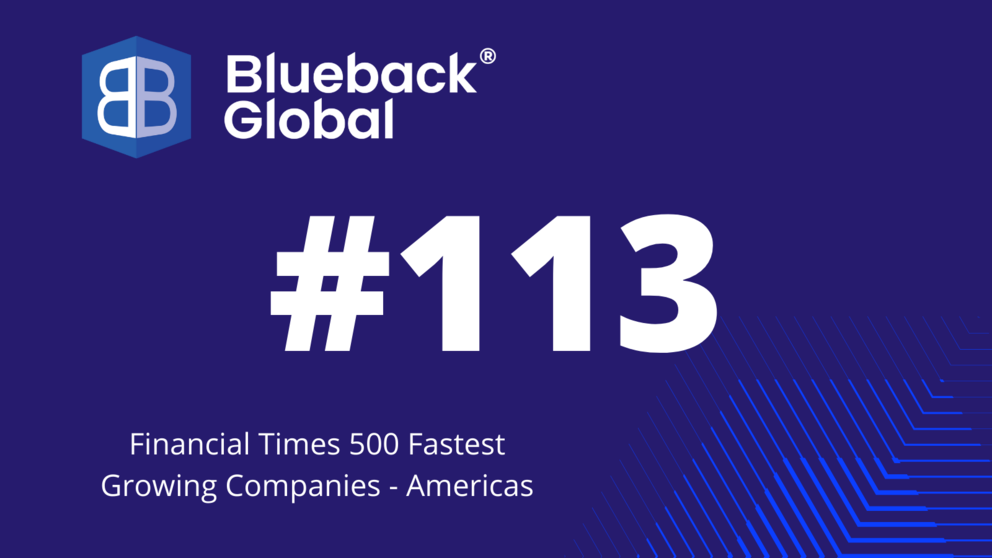 Blueback Global Ranks 113 on the 2022 Financial Times Americas' Fastest Growing Companies List
For the second year, Blueback Global makes list with 705% growth in revenue
The Financial Times again placed Blueback Global on its list of fastest growing companies, joined by companies like Zoom, Twilio, Lyft, Zscaler, Okta and other industry leaders. The list points to many trends in economic growth, including the role of digitization and remote work as a key to the future of economic growth.
We are honored to join an exclusive group of 500 companies across the Americas. I am proud of our team and clients for elevating us into the top 25% of listed companies, and excited for the continued growth to come.

Arden Ng, Principal & CEO, Blueback Global
Blueback Global is unique on the list for its industry – many of the companies placed are in the tech and medical industry. As one of the few companies in the Global HR and Entity Solutions space, the achievement distinguishes Blueback Global from its competitors.
Methodology:
The Financial Times mentions their methodology on this year's rankings website:

"All information reported by the companies was processed and checked by Statista. Missing data entries (employee numbers, address data, etc) were researched in detail. Companies that did not fulfill the criteria for inclusion in the ranking were deleted.
In addition to the companies that responded to invitations to participate, Statista included some well-known companies noted for their remarkable growth. Financial information was collected via desk research using official sources, such as publicly available earnings presentations, investor relations websites, and annual reports."
Financial Times Listing
For more information about Blueback Global's ranking, and to view the full list, visit The Financial Times' Website