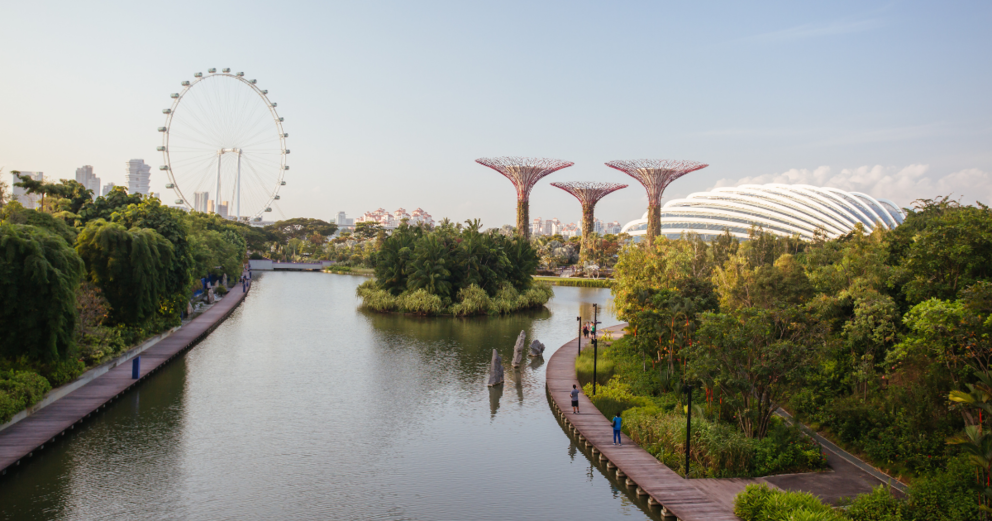 Did you Know GDP for ASEAN Countries Totals $7.4 trillion USD? Opportunity Abounds for Global Investors
The Association of South East Asian Nations (ASEAN) closed 2017 with a GDP of approximately 2.76 trillion USD. How many of our readers would have guessed the ASEAN economy is so substantial.
You may also be interested to know that ASEAN population (642.7 million) is almost double that of the US. Indonesia alone reported a total population of 266,794,980 in 2018, which is roughly 80% of that in the United States and 40% of all ASEAN countries combined.
ASEAN was originally established on 8 August 1967 in Bangkok, Thailand, with the signing of the ASEAN Declaration by the Founding members of ASEAN (Indonesia, Malaysia, Philippines, Singapore, and Thailand). Between January 1984 and July 1997, Brunei, Viet Nam, Laos, Myanmar, and Cambodia were asked to join ASEAN (Source: ASEAN website). So the 50th anniversary of the formation of ASEAN will be celebrated on 8 August 2017 in the Philippines, home of the current ASEAN chairperson.
ASEAN is Enjoying a Period of Relative Political and Economic Stability
During the past several years, ASEAN countries have enjoyed a period of relative stability. Previously, many ASEAN countries had experienced civil wars, significant religious differences, military dictatorships and political coups, and dissolution of dictatorships. Although Thailand is currently governed by a military junta which took power in July 2014, the economy is stable and in fact experiencing modest growth.
Based on the latest numbers, the following macro indices demonstrate this.
GDP grew by 4.89% to $7.4 trillion USD.
Per capita GDP across the region was $11,513 USD (2016 dollars). There are "haves" and "have-nots" across ASEAN with per capita GDP ranging from $3,700 USD in Cambodia to over $84,000 in Singapore.
Both unemployment and inflation rates are rather low at 3.53% and 1.85%, respectively.
Foreign direct investment (FDI) for the 10 years ended 2015 averaged $97.3 trillion USD. FDI for the last 2 years reported came in at $134.8 and 135.1 trillion USD, or approximately 38% higher than the 10-year average. These last 2 years also represent a high in FDI during this 10-year period.
Which ASEAN Countries Offer the Best Investment Opportunities?
Singapore: transparency, stability, and strong economic performance
Although Singapore is one of the least populous countries in ASEAN at only 5.78 million, it has a disproportional sized economy with a GDP totaling $487.9 trillion USD. Its population ranks 114th in the world while the size of its economy ranks 41st globally. Singapore has far and away from the highest per capita GDP in ASEAN ($84,383 USD).
The economy depends heavily on exports, particularly of consumer electronics, information technology products, medical and optical devices, pharmaceuticals, and on its vibrant transportation, business, and financial services sectors. The past several quarters have seen an increase in manufacturing, particularly the electronics segment. Singapore is also known as ASEAN's leading financial and technology hub, with continued growth in these industries likely.
Thailand: well-diversified economy & continued infrastructure improvements
Thailand boasts the world's 21st largest economy along with its 21st largest population. Thailand is one of only two ASEAN countries where GDP exceeds a trillion USD. Thailand finished 2017 with a GDP totaling 15.450 trillion baht (US$455 billion).
More importantly, according to the World Bank report on Thailand, "Poverty has declined substantially over the last 30 years from 67% in 1986 to 7.2% in 2015 during periods of high growth and rising agricultural prices." Thailand is now officially an upper-middle-income economy. This means domestic spending has been increasing with many Thais purchasing cars and/or homes over the past five years or so.
Also over the past two decades, Thailand has been implementing its long-range plan to expand roads and railway networks to connect various regions and provinces within Thailand. As outlined in this Board of Investment (BOI) overview, you'll note that "Thailand is widely acknowledged as having the most extensive road transportation network in all of Southeast Asia with more than 390,026 km of roads, 98.5% of which is paved.
Other major transportation initiatives include numerous high-speed rail projects which will connect several of Thailand's busiest cities (Pattaya, Hua Hin, Chiang Mai) with Bangkok. Another major infrastructure project is a deep port project with Thailand, Myanmar, and Japan partnering to develop the Dawei Special Economic Zone. Dawei will have the capacity to hold 250 tons of freight. This special economic zone will span 200 km.
An insider's tip to Thailand
For many years there have been discussions about the gaming industry entering Thailand. In particular, the development of casinos has been discussed widely. As we write this article, gambling remains illegal. New legislative action legalizing gambling is still needed in order for casinos to be allowed to operate here.
This has been a divisive topic over the years, but recently, political and business leaders appear to be aligned. Nearby countries including Cambodia, Philippines, Singapore, of course, Macau all have an active and robust gaming industry. Thailand is losing significant tourist spending to those countries as long as gambling remains illegal.
Keep an eye on this potential growth area in Thailand. If casinos are built in the coming years, this will fuel additional growth in tourism and real estate.
Thailand's top growth industries include the following:
Exports of electronics, agricultural commodities, automobiles, and automobile parts, and processed foods.
Logistics growth will be fueled by the development of Davei as well as an expansion of the port in Laem Chabang (Sri Racha province).
Petroleum refining, petrochemicals.
Manufacturing of automobiles and automobile parts.
Travel & tourism.
Commercial and residential real estate.
Just a small note of caution to potential investors: historically Thailand has not been known for its political stability. Over the past decade alone, there have been two military coups. The government is currently run by the military, which has been in power since July 2014.
Myanmar: linkage with Japan and Thailand on Dawei is key to future growth
Before we discuss growth areas here, it's important that one considering investing in Myanmar be mindful of political unrest that has held development back. The first democratically elected government officials were just sworn into office on 30 March 2016. Prior to this election, Myanmar was ruled by a military dictatorship for over five decades.
The Dawei Special Economic Zone project is critical to jumpstarting Myanmar's growth in the coming years. This project is strategic to ASEAN as it creates a more connected supply and opens up shipping lanes to the west. Additionally, Myanmar benefits by having two significant trading partners in Japan and Thailand. FDI to Myanmar has increased from $901 million to $4.1 trillion USD over the past five years. We expect this trend to continue.
Industry segments include oil and gas, mining (precious metals), and agricultural processing, among others. Additionally, the government needs to spend heavily on modernizing and opening the financial sector, developing transportation and electricity infrastructure, and increasing agricultural productivity. All these investments had been deferred in Myanmar during its military dictatorship.
If you plan to expand globally in the ASEAN region, you're going to need help
With all this potential business opportunity in ASEAN, you and your company may have very good reasons to expand and grow your business there. The downside is that it is an extremely difficult region to do business. According to the World Bank's Ease of Doing Business Index, only Singapore (2), Malaysia (23), and Thailand (46) are in the top 30% in terms of relative ease for foreigners to conduct business. Myanmar is ranked 170 out of 190, making it one of the most difficult places in the world to conduct business. Even Thailand ranked at 46 can be moderately difficult in getting your business up and running.
Don't go it alone. Our professional team at Blueback Global has the talent needed to collaborate with you in successfully growing your business in ASEAN or other countries and regions around the world.